30 Jul

Dr. Todd Hutton Speaks With Christine Little About TMS Therapy as a Depression Treatment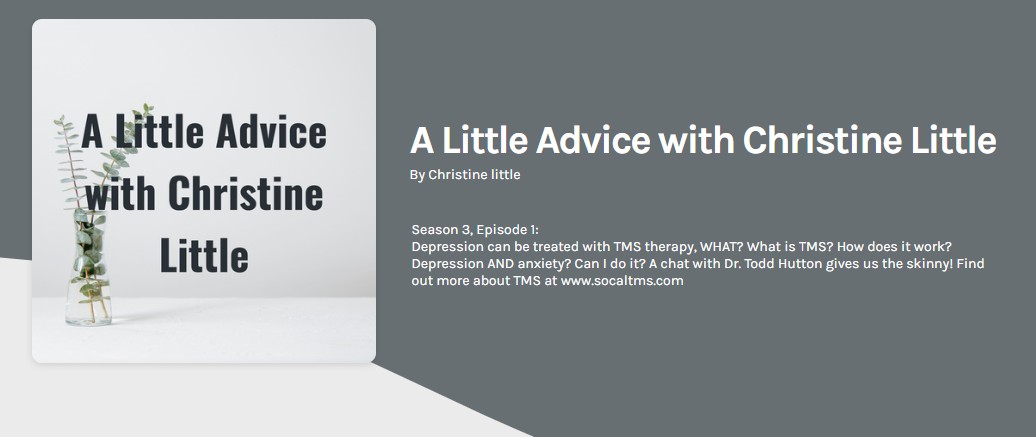 Dr. Todd Hutton, Medical Director of Southern California TMS Center, was a special guest on the popular podcast, "A Little Advice With Christine Little." This podcast is hosted by actress and comedian, Christine Little, whose work has been featured on platforms such as FOX, Huffington Post, and Voyage L.A. In this interview podcast, Christine asks for a layman's explanation of what the FDA-approved depression treatment, Transcranial Magnetic Stimulation (TMS) is, how it works, who it's for, and how it continues to gain popularity with insurance companies.
Inside this interview with Dr. Hutton and Christine, you'll learn about:
How TMS stimulates parts of the brain that is underactive (which is one of the factors contributing to depression)
Critical benefits of treating depression with TMS have over ECT (shock therapy) and standard antidepressants
The success rate of TMS and how it stacks up against other depression treatments
The role Brain Derived Neurotrophic Factor (BDNF) plays in a patient's treatment process
How insurance companies look to cover this powerful depression treatment.
… and more. So please enjoy this podcast by clicking the play button below.